The right hot water system installed for you
We can't live without hot water! That's why it is imperative you have the correct system installed in your home or office, and choose the correct hot water system installation team. If you are having problems with your hot water tank or system, chances are it needs servicing or replacement.
We can help you choose the right hot water system for your home – and we even offer a free quoting service we can attend and work out the correct system for your family and lifestyle. Some factors to consider when choosing the right hot water system include: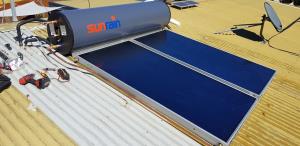 What type of energy can you use (gas, solar, electric etc)
What size system do you need (this depends on numerous factors such as number of bathrooms, number of householders etc)
Space considerations for indoors and outdoors – this will help you determine where your system should be installed around your home or office
Features required such as temperature controls, warranty etc
There's nothing worse than a cold shower but BCJ's technicians will get that warmth back into your life super fast.
We service and install all manner of Hot Water Systems - Solar hot water, Electric Hot Water, Gas Hot Water and Heat Pump Hot Water
We will supply you with a temporary 50L HWS to get you through the weekend
Our plumbers are able to assist and quote you with the appropriate and most cost effective system for your needs and budget
We are fully licensed and meet the QBCC requirements for the disconnection, removal and installation of all Hot Water Systems
We can fault find over the phone with you to assist you with speedy identification and installation of your HWS. With our expert advice, we will have your hot water running again in no time.
We stock a wide range of hot water systems, but more importantly, we provide the right type and size of hot water system for installation in your household or office.
We also offer full hot water system maintenance services, so give us a call if you want to know anything at all to do with hot water.
Types of hot water systems we stock
Electric hot water systems
What is an electric hot water system?
An electric hot water system is a hot water system that uses electricity to heat the hot water for your home of office. Electric hot water systems have an electric element that is sparked when a hot water tap is turned on. This electricity warms the water within the system – whether it be a storage system or instantaneous/continuous. In addition to standard electric hot water systems, some solar hot water systems have an electric booster element to increase the reliability of consistent hot water.
Solar hot water systems
What is a solar hot water system?
A solar hot water system is a hot water system connected to solar panels generally mounted on a roof.
These solar panels absorb the sun's rays and convert these rays into energy that warms the hot water in your home. Solar hot water systems are commonly boosted by electricity to ensure that water is always warm even when the sun is not shining, but some hot water systems can be gas boosted to provide the same effect at lower running costs.
Why choose a solar hot water system?
Solar water heating has a number of benefits. Not only do you reduce your household or business energy costs by harnessing a natural and renewable energy source to power your hot water system, but you also reduce green house gas emissions.
Choosing a solar hot water system is a great idea if you wish to do something positive for the environment, all while saving money. Plus, at the moment there are government rebates available when you install solar hot water systems in your home – so you save even more!
Heat pump hot water systems
What is a Heat Pump Hot Water System?
Heat pumps are the latest technology in hot water systems. They use similar technology to your household refrigerator – but instead of producing cold energy, heat pumps produce warm water for your home or office. Heat pump systems utilise the air around it to produce hot water. Refrigerant vapour compression allows the pump to intensify heat, used to produce the hot water. Warm air enters the system, and cooler air is pushed out of the system. Cool water then enters from the tank, and heat is transferred to the water in the heat pump module. Heated water then returns to the tank and is passed on to you for use in your home or office. When power is available, the heat pump heating cycle will continue until the tank is full of hot water – which is stored within the system (the amount of water depends on the size of your system).
Why Choose a Heat Pump Hot Water System?
Heat pumps save equivalent amounts of energy and green house gas emissions to electric boosted solar hot water systems. They are relatively low in cost to install and purchase – plus government rebates are currently available for heat pump hot water systems. Heat pumps are seen as a safe alternative as temperature is electronically controlled in most cases. Unlike solar hot water systems, heat pumps do not require solar panels on your roof, increasing the aesthetic. Heat pump systems also use the same connection types as electric hot water systems, making upgrading from your existing electric hot water system very simple. Back up elements ensure you receive hot water all year round – another great reason to choose a heat pump system.
We also stock gas hot water systems - talk to us today!